Consuming Carbon
Consuming Carbon: RESOLVE Scenarios to 2030 for UK Household Consumption, by Scott Milne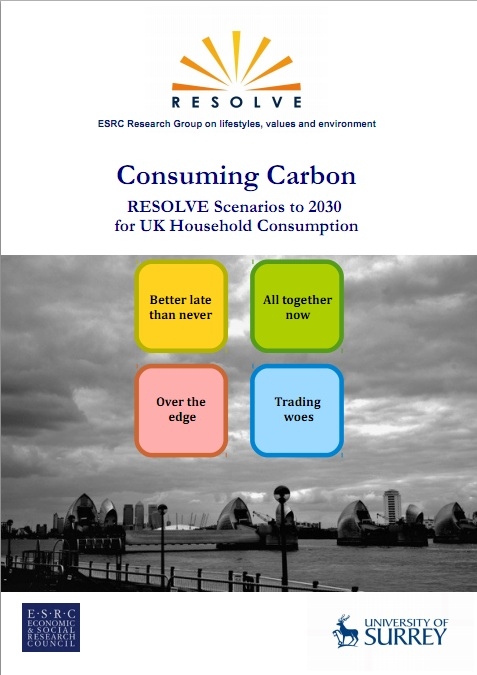 Foreword by Nick Robins, Head of HSBC Climate Change Centre of Excellence.
Afterword by Prof Tim Jackson, Professor of Sustainable Development, University of Surrey.
Consuming Carbon explores possible changes in consumption by UK households through to 2030, in the context of four scenarios describing global, regional and national developments. Alongside the scenario narratives, illustrative figures are provided for household expenditure and associated carbon emissions.
Download the Consuming Carbon report here
Reference as:
Milne, S., "Consuming Carbon: RESOLVE Scenarios to 2030 for UK Household Consumption", University of Surrey, Guildford, UK, ISBN 978-1-84469-023-7, November 2011.
For full illustrative figures, see Supplementary Data Report. For further background including methodology, see the PhD thesis from which this report was derived.
This work was funded by the UK funding council ESRC as part of the Research Group on Lifestyles Values and Environment (RESOLVE) at the University of Surrey.